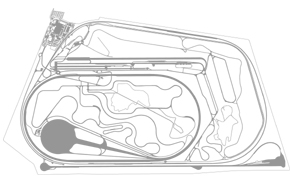 The main purpose of a proving ground is to move vehicle testing from the public roads to a controlled, secure and safe testing environment. In that respect the proving ground simulates a wide range of road types and events, all correlated with the customers' usage of the vehicle.
Ford Lommel Proving Ground has a variety of test tracks to support durability testing. Some tracks are exact copies of public roads, others are especially designed to simulate public road usage in the most extreme way.
There are a number of dedicated corrosion facilities at Ford Lommel Proving Ground. Especially the climatic chambers which help to accelerate the corrosion proces of a vehicle in time.
For functional performance testing a large number of tracks are used which help to simulate extreme road conditions or allow to test the vehicle at its functional limits.
Brake testing is performed in the safest possible conditions. Most brake tests take place on the Straight Away.
Root cause investigations can of course take place on any track of Ford Lommel Proving Ground. The mentioned tracks are the tracks most commonly used for this purpose.
Handling manouevers are only allowed on tracks with sufficient safety measures. The most extreme manoeuvers are performed on the Vehicle Dynamics platform. Ride testing, development and evaluation is performed on different tracks that simulate worldwide real road conditions.
NVH testing and development is done on different tracks of Ford Lommel Proving Ground. One of the main tracks especially constructed for this purpose is the NVH-track with different lanes, all having different road surfaces.